Structure Fire Assist Dept 17
12/11 - Kuhl Hose was dispatched to assist Wattsburg on Weeks Valley Rd for a Structure Fire. Crews arrived and found an small barn a short distance from other structures fully involved. Crews stretched lines and protected exposures and extinguished the fire. There was minimal damage to the exposure buildings but barn was a total loss. The cause is under investigation. Greenfield also assisted at the scene.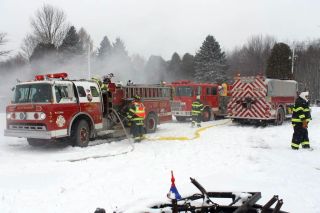 AFA - Water Flow Alarm
11/27 - Belle Valley requested an Engine assist at an AFA Wednesday afternoon. On arrival 362 Engine found water flowing and coming down the steps, out doors and through ceilings. 683 Engine arrived and worked with other crews on scene. A large sprinkler pipe had broken flooding 4 townhouse apartments and causing major water damage. Crews worked to turn the water off, contain the water and minimize the damage. Crews were on scene for just over an hour.
MVA RT 8
11/27 - Kuhl Hose was called to a single truck roll over accident on RT 8 just after 08:30 Wednesday morning. On arrival 687 reported a U-Haul truck over turned, pole and wires down. 687 assumed command. Crews found the victim self extricated with minor injuries. The area was secured and utility companies were called. The vehicle was removed but due to low hanging wires the road was closed until afternoon. Fire Police from Belle Valley and Brookside assisted as well.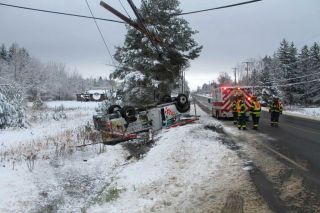 RIT & Engine to Brookside
10/27 - Brookside was dispatched to a Structure Fire just before noon Sunday afternoon. On arrival, 240 reported smoke showing from an attached garage. 682 Engine responded with a crew of 4 and got put to work on arrival. 683 along with Busti 312 responded as the RIT. On arrival RIT was set up on side A and monitored the crew assignments and accountability. The fire was contained to the garage and Kuhl Hose crews assisted with overhaul while Busti held the RIT. REHAB 68 was also on scene assisting. All crews cleared the scene in under an hour.
RIT Training with Busti Part #2
10/27 - In May Kuhl Hose and Edinboro visited Busti FD in Chautauqua County NY to help as they developed and began the workings of a RIT. Today the Busti Crew came to Sta 68 for another training opportunity. Busti & Kuhl Hose Crews worked on many different scenarios and included leadership and scene operations. Busti Rescue 312 responded with 683 Engine to an actual RIT response assisting Department 24 before returning to the training grounds for a few final scenarios.
Knoyle Rd MVA
10/19 - Kuhl Hose responded to the 5300 block of Knoyle Rd Saturday night for a 2 car vehicle accident. On arrival 680 reported 2 vehicles heavy damage. A follow up report confirmed 4 patients and 1 vehicle with a fire under the hood. 697 arrived and treated and prepared patients for transport while the engine crews secured the vehicles and extinguished the small fire. 2 patients were transported to UPMC Hamot and 2 refused transport after initial treatment. PSP is investigating the accident.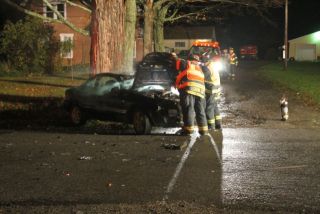 RIT Assist Dept 113
10/04 - Kuhl Hose was requested to assist Dept 113 with a RIT. Crews were initially dispatched for a dryer fire, on arrival Chief 140 reported smoke showing. A follow up report Chief 140 confirmed a working fire in a dryer with possible extension. 382 was the initial RIT crew and summoned for 68 RIT to assist. On 683 arrival the crew set on on side A with the 38 RIT equipment. 390 gave a status report of crews working and their locations. There was extension into multiple void and crawl spaces making this a difficult fire to contain. Union City, Waterford, Edinboro and Wattsburg crews worked to contain and extinguish the fire. No one was injured and the fire is under further investigation.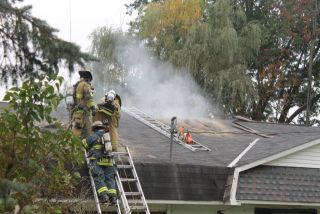 MVA Morehouse Rd
09/15 - While returning from a no injury accident, 680 witnessed a roll over accident at Morehouse Rd & RT 8. Kuhl Hose was dispatched and 687 & 683 responded. The single occupant was self extricated and when 687 arrived he was treated and then transported to UPMC Hamot with minor injuries. 683 secured the vehicle, assisted PSP and cleared the scene within 30 minutes.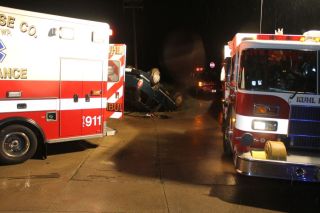 MVA I-90

09/15 - Kuhl Hose was dispatched to assist Harborcreek and Brookside on I-90 Sunday afternoon. A vehicle traveling eastbound crossed through the median across the west bound lanes and up an embankment. The vehicle came to rest when it hit the game fence. The vehicle then rolled back down to the roadway. It appears the driver may have had a medical event prior to the accident. 683 responded to assist and on arrival was staged and then returned shortly after. The patient was transported by Brookside to UPMC Hamot for evaluation. PSP is investigating the accident.
MVA Assist Department 42

09/11 - Early Wednesday morning Perry Hiway was called to The 90 @ Exit 27 for a Semi overturned. Kuhl Hose was requested for an Engine and Water Tender to assist at the scene. 685 & 683 responded. A semi tanker hauling egg products overturned and spilled on the roadway. Although the tanker wasn't hauling hazardous materials there was a diesel fuel spill that had to be contained. Crews waited for the truck to be righted and then worked to clean the roadway of the egg products. Once the roadway was opened to 1 lane the Department of Transportation worked to clean and clear the contaminants from the roadway. The State Police were on scene and are investigating the accident.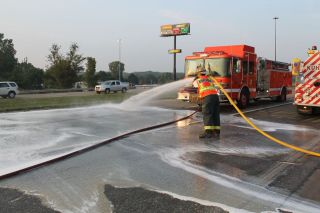 Rescue Assist Department 17
09/10 - Just after 21:30 Tuesday night Kuhl Hose was dispatched to assist Department 17 at a roll over Vehicle Accident with a Rescue. On arrival 680 worked with the Medic and to attempt to gain access prior to the Rescue arrival. When 174 & 683 arrived, crews quickly stabilized the vehicle and gained access by removing the door. The driver of the auto succumbed at the scene from their injuries. The State Police are investigating the accident.