Recent Incidents
Hay bale Fire
04/21 - Kuhl Hose was dispatched to Turner Rd to assist the State Police just after 1 Thursday afternoon. On arrival crews found a large pile of round bales burning. The State Police wanted the fire extinguished due to the large amount of smoke and the hazards it was causing for motorists on Turner rd. Crews worked for approx 1 1/2 hours and making little headway called for more manpower and assistance from Wattsburg Hose Co. Shortly after Greene Township Supervisors were called and they sent a township excavator to assist. The excavator was used to pull the bales apart and help with extinguishment. Crews worked on scene until just after 17:00.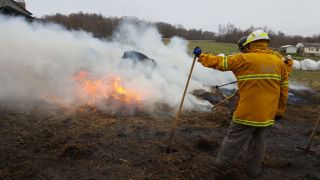 Wattsburg Structure Fire

03/29 - Kuhl Hose was dispatched to assist Wattsburg for a barn fire on Fenno Rd. RIT, Tender and REHAB was requested. On arriva ofl Elgin Beaverdam and Corry units it was reported as a barn/garage attached to a residence, working fire. On arrival 683 & 687 RIT set up on side A. The 683 Engine operator established water fill site for tenders about 3/4 mile from the scene. Once the fire was under control, the RIT was scaled back and part of the team assisted with overhaul of the barn. Fire damage to the residence was minimal. Crews returned to service in a few hours.

Wattsburg Structure Fire

03/24 - Kuhl Hose was dispatched to assist Wattsburg with a shed fire on the Phillipsville Rd just before 1:30 Thursday afternoon. Chief 680 responded and called for an additional engine and tender to the assignment from Greenfield when dispatch reported the house was also on fire. On arrival 680 reported multiple shed structures on fire and the residential structure in imminent danger. Wattsburg Tender 176 arrived, took the address and stretched a line to protect the exposure and make a knock on the fire. Crews from 172 and 1133 arrived shortly after and assisted with suppression and checking the residence for extension. Tender 685 arrived and supplied 176.

On 683's arrival they were assigned the wild land fire management assignment. The wild fire was quickly growing in size with multiple spot fires. Corry 108 RIT and Elgin Beaverdam manpower arrived and were assigned to assist with building a fire line and containing the wild fire with 683.

Greenfield 707 arrived and transported 1 occupant of the property to the hospital with chest pain & breathing difficulty.

Crews were on scene for about 1 hour, the fire is under further investigation but appears to have started from outdoor burning.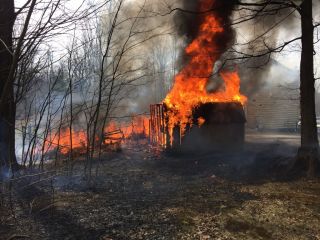 Perry Hiway House FIre
02/15 - Perry Hiway was dispatched to Old French Rd late Monday morning. Reports of a trailer fire were received by dispatch. Enroute Engine 423 was advised that the structure sat a considerable distance from the roadway. The driveway was over 2000 feet long and the involved structure.
423 arrived reported a working fire in a residential structure. The crew stretched a line and made the initial attack on the fire. 683 Engine arrived, backed down the driveway, established a drop tank water fill site and supplied 423. 683 crew pulled a 2nd line and assisted with fire suppression.
Tenders 435, 685 & 686 shuttled water from a hydrant at Old French and Robison Rd. The tenders backed down the driveway and filled the drop tank. The driveway conditions didn't allow for more than 1 piece of apparatus at a time.
Engine 362 & 363 crews arrived and had to walk the distance to the fire because there was no room for apparatus due to the water shuttle operation. Once at the scene 1 crew went to the roof for ventilation and the 2nd crew assisted with suppression efforts. Mckean Engine 405 arrived and their crew was assigned suppression and overhaul.
REHAB 68 assisted as well as Brookside manpower with the Mule to shuttle equipment and manpower.
Greenfield Barn Fire
01/30 - Kuhl Hose was dispatched to assist Greenfield on Williams Rd for a reported barn fire. Chief 701 arrived reported a fully involved pole barn and assumed command. Engine 704 arrived and pulled a 2 1/2" line and made the initial attack. 708 rescue laid a 5" supply line from the road. Engine 682 arrived and established water supply along with Tenders 715, 685 & 225. 682 crew pulled a 2nd line from 704 and assisted with fire suppression. 707 transported 1 minor injury for evaluation at the hospital, and 687 reported to the fire ground to standby. REHAB 68 responded and provided support for several hours. The fire is under investigation.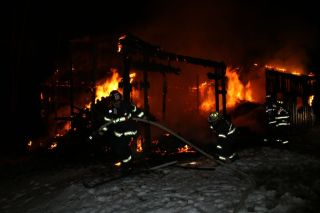 .

I-90 Crash

01/13 - Just before 09:00 Wednesday morning Kuhl Hose was dispatched to asssit Brookside along with multiple other agencies to I-90 near Exit 32 for a multiple vehicle MVA. On arrival 240 reported multiple vehicles with unknown injuries. As EMS and rescue units arrived they were given triage, treatment, extrication and transport assignments. 687 assisted with triage of a large area as well as part of the crew assisted with extrication of a trapped patient. Erie County Haz Mat was called to the scene to handle a 53' box trailer hauling corrosive materials. They were leaking from their containers, out of the trailer to the roadway.

14 total patients were transported to area hospitals. Harborcreek School district provided buses as warming shelters for stranded motorists and Fire/EMS personnel.

Most units were on scene for several hours. PSP is investigating and working to get the road open by mid afternoon.

Units assisting were: Brookside, Kuhl Hose, Fuller, Crescent, Fairfield, Harborcreek, Belle Valley, Greenfield, Emergycare, Millcreek Paramedics, Pennsylvania State Police, US Border Patrol, and multiple Fire Police units from across the county.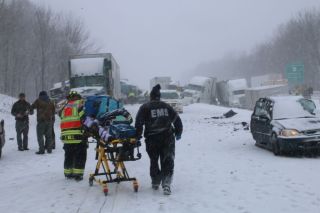 2015 Year End Report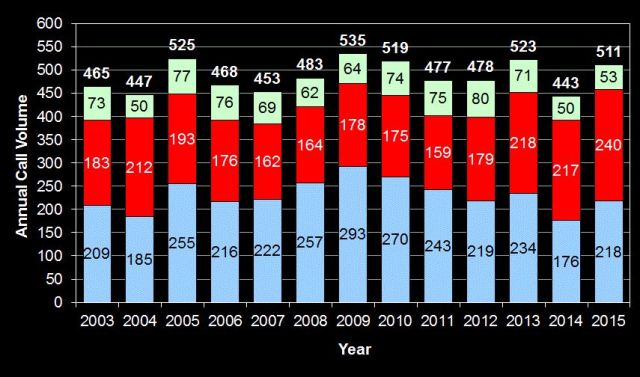 Perry Hiway Structure Fire
01/05 - Kuhl Hose was dispatched to assist Perry Hiway early Tuesday morning at a structure fire. On arrival Engine 434 confirmed a working fire. The fire was in a 5 unit apartment building. The fire started in apartment #3 and quickly spread to the other units. Crews battled the fire for several hours before bringing it under control. 682 & 683 Engine crews worked with crews from Perry HIway, West Lake, Belle Valley, Waterford and Brookside to contain and extinguish the fire. Ambulance 687 assisted with REHAB and EMS support. The fire is under investigation by the Perry Hiway Hose Co.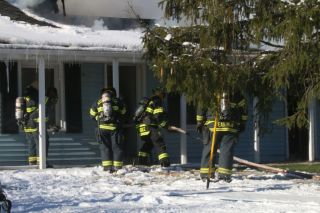 QRS Certification / EMS Pediatric Recognition

12/19 - Kuhl Hose has been inspected and received a Quick Response Service (QRS) certification from the Pennsylvania Department of Health, Bureau of EMS. This is for our 2 Engine companies. This certification is another way that Kuhl Hose stays in the forefront of providing Fire, EMS and Rescue services to our community. The certification requires specific equipment, training and background checks for members. This shows our members and departments dedication to the community and its citizens. The QRS certification is an addition to our BLS ambulance transport service and our Voluntary Rescue certifications.

As well the members of Kuhl Hose were recognized as a participating agency in the "Pediatric Voluntary Recognition Program." 74,350 children were transported via ambulance in Pennsylvania in 2012 -- that's one transport every 7 minutes! In order to ensure that EMS agencies are prepared for pediatric patients, the Pediatric Voluntary Recognition Program was created by the EMS for Children program, in partnership with the Pennsylvania Department of Health, Bureau of EMS. This is a multi-phase recognition program for EMS agencies who wish to establish programs and standards to improve their capabilities to deliver care to pediatric patients. Participation in the program is entirely voluntary. Kuhl Hose has been recognized to the Master level by having the basic equipment for pediatric patients, conducting Childline Child abuse clearances for all of our members, providing at a minimum 4 hours of Pediatric training each year and conducting EMS outreach programs to the community during the year. Kuhl Hose is one of 132 agencies in the commonwealth, and only the 3rd in our region to achieve this recognition. We are very proud of the work members have put forth and their commitment to achieve and maintain these high standards.

Waterford House Fire

12/13 - Just before noon Sunday, Kuhl Hose was dispatched to assist Waterford at a structure fire on Klemmer Rd. The Fire was reported by the homeowner who had returned from a family outing to get their Christmas tree. On arrival, the structure was heavily involved in fire. Kuhl Hose 683 set up the water supply fill site at a pond on Old Wattsburg/Waterford Rd. 685 & 686 shuttled water along with tenders from Union City, Waterford, Mill Village, Perry Hiway and Wattsburg. REHAB 68 also assisted at the scene.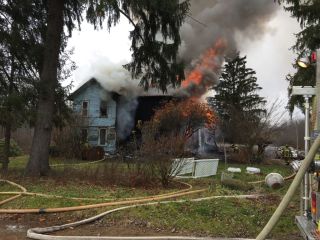 RT 8 Crash with Pin
11/18 - Mid morning Wednesday had Kuhl Hose and Emergycare units responding to a roll over crash in front of Station #68. The vehicle left the roadway into a ditch, over a culvert and into a pole @ RT 8 & Rescue Lane. On arrival 680 reported 1 vehicle on its side into a pole, live wires down across the truck and burning in the roadway. An urgent request was given for the power company to the scene by both the fire department and State Police. Crews from 697, 683 & Emergycare assembled equipment and secured the area. As soon as the power was secured and the OK given from the power company they began the extrication. Crews secured the vehicle with Junk Yard Dog struts, and removed the roof using the Holmatro rescue tool. The patient was removed from the vehicle and secured to the gurney, moved to 697 and transported to UPMC Hamot. The vehicle was secured, the road asphalt fire was extinguished. PennDot was notified due to the roadway damage. The accident is under investigation by the State Police.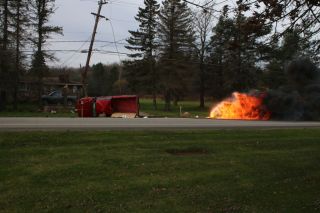 Bliley Rd Fire
11/17 - Just before midnight Tuesday Kuhl Hose was dispatched to Bliley Rd for a house fire. On arrival 24-L8 reported a working fire of the rear porch extending to the structure. On arrival 680 assumed command. Tender 686 arrived on the scene, the crew stretched 1 1 3/4 line and quickly contained the fire. 682 & 683 Engine crews checked for extension and 249 Truck arrived but was returned as the structure was quickly ventilated. The homeowner was assisted with minor clean up and securing the structure. Crews cleared the scene in under an hour. Wattsburg, Greenfield and Fuller Hose assisted but were returned prior to arrival.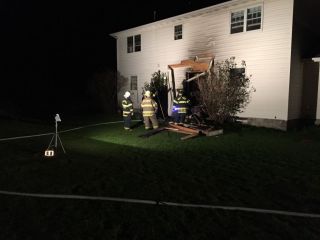 Sampson Rd Barn Fire
10/31 - Kuhl Hose was dispatched for an outside fire just after 10 Saturday night. There was no one home at the time of the fire and a passerby called 911. Shortly after the dispatch was upgraded to a barn fire. Mutual Aid was dispatched to assist. On arrival 680 found a barn structure heavily involved in fire and partially collapsed. With no exposures and the size of the structure mutual aid was cancelled except for Tender 176 from Wattsburg.

683 arrived stretched a 1 3/4" line and began to contain the fire. Crews from 682 & 685 arrived and assisted. The fire was under control in a short time. Some animals in the barn were lost in the fire. Crews cleared the scene within an hour.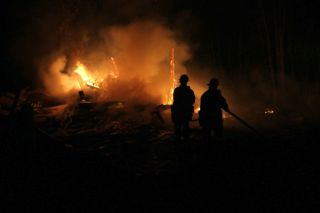 Belle Valley House Fire

10/28 - Kuhl Hose was dispatched to assist Belle Valley at a structure fire on Footemill Rd shortly after noon Wednesday. Millcreek police arrived and reported a working fire with an elderly occupant inside. A Millcreek Police officer pulled the resident from the structure. Both the resident and the officer suffered smoke inhalation, both were treated and transported by Millcreek Paramedics.


The fire is in one of the non hydrant areas of Millcreek so Kuhl Hose 685 responded along with tenders from Perry Hiway, Waterford and Fairfield. The tenders shuttled water to the scene from a hydrant a short distance away. Addition to setting up water supply, Kuhl Hose personnel assisted Brooksides Engine crew with fire suppression. Crews were pulled from the building by command when the fire in the attic was much further ahead of the crews making an attack. West Lake 489 provided a master stream which quickly knocked down the fire. Once the fire was knocked down crews re-entered the structure extinguish and overhaul the fire.

Waterford House Fire

10/10 - Kuhl Hose was dispatched to assist Waterford for a Structure Fire just after 7 Saturday evening. 683 arrived pulled a 2 1/2" and also used the deck gun to make the knock down. 145 arrived stretched a line to protect a propane tank and assist with knock down. Water was shuttled by Kuhl, Waterford and Union City from Chapman's Pond about 4 miles away with Perry Hiway 432 establishing the supply at the fill site. Edinboro 382 set up RIT and 383 assisted with an engine crew for manpower. The fire was under control in 20 minutes and crews remained on the scene for a few hours to overhaul and extinguish the fire. REHAB 68 assisted at the scene, along with Squad 147 and Emergycare 117. The fire is under investigation by the Stancliff Hose and the State Police.