Shed/Trailer Fire Assist Perry Hiway
04/22 - Tuesday afternoon Perry Hiway was dispatched to a trailer fire on Applewood Ln. 680 was 1st to arrive, reported a shed fire next to a trailer with some extension. 432 Engine arrived, stretched a line and made a quick knockdown of the fire. 683 & 363 engine crews opened up the exterior walls of the trailer and found some minor extension and quickly had it contained. The fire is under investigation by Perry Hiway Hose and the State Police Fire Marshal.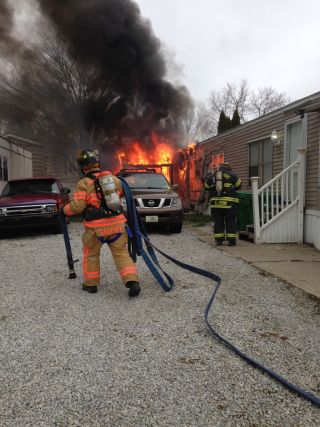 Structure Fire Assist Waterford
04/17 - As crews were clearing the RT 8 Wild Land fire they were sent to Waterford for a house fire @ 1st & Chestnut St's. First arriving companies reported a working fire. Chief 140 arrived assumed command and assigned the 1st crews to an interior attack. Chief 680 arrived and was assigned the Ops Chief duties. 682 Engine arrived was sent to the 2nd Division to make an attack on the fire. The Fire fanned by high winds quickly spread and crews were called out of the building and an defensive attack was made. 683 laid a line from 3rd and Chestnut and supplied Truck 389 for master stream ops. The stubborn fire took several hours to contain, and crews remained for overhaul for several more hours. The fire is under investigation.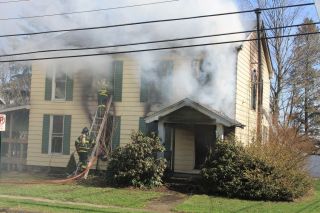 Wild Land Fire
04/17 - Mid afternoon Thursday Kuhl Hose was alerted to a wild land fire threatening exposures on RT 8 near Kuhl Rd. 680 arrived on the scene reported fast moving 1/4 acre fire. High winds added to the fires spread. 683 & 689 arrived and crews quickly contained the fire, overhauled the area and returned to service within 30 minutes.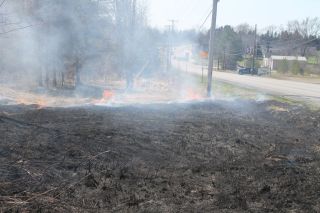 Tractor Trailer Fire
04/15 - Kuhl Hose was dispatched to Hunter Truck Sales/Service for a tractor trailer fire. On arrival 68S1 confirmed a working fire. 683 arrived pulled a line and made a hit on the fire. 685 supplied 683, the fire was quickly contained and extinguished. Crews were on the scene for less than 30 minutes.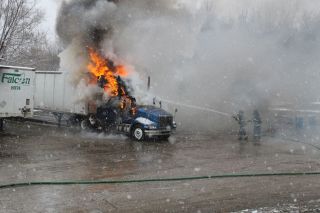 Wildland Fire extends to shed/grain bin
04/14 - Just before 11 Monday morning Kuhl Hose was dispatched for a shed fire on Lake Pleasant Rd. On arrival 686 reported a large fire in a shed and extension to a grain bin and other material. 686 requested an additional engine. On arrival 680 assumed command. Crews from 682 & 683 stretched 2 lines from 686 and contained the fire while protecting 2 large barn exposures. Once the fire was contained, extensive overhaul was required. Crews from 687 & 689 assisted with this task. The fire appears to have started from a wild land fire that extended to the structure. 689 was used to extinguish the original fire area. Crews were on the scene for just over an hour.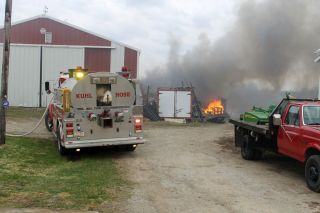 Lights & Sirens Expo
04/12 - This weekend Kuhl Hose participated in the Lights & Sirens Expo at the Bayfront Convention Center. The event was sponsored by many local agencies and was planned to promote public safety. Many agencies participated and provided education for adaults but more important kids. Kuhl Hose set up a rural water movement and a Firefighter REHAB display with 685 and REHAB 68. Thousands of visitors were exposed to the Rural Fire Service and how we provide our service.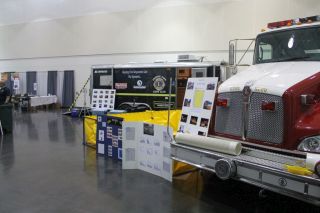 Tree into House
03/12 - Early Wednesday afternoon Kuhl Hose was alerted to a tree into a house, people trapped and possible structural compromise. The large pine tree had fallen on the house blocking the front entrance. A large section of the tree broke off and feel blocking the rear of the house. On arrival 680 reported a large tree on the house. 683 Engine arrived and found the large tree had caused structural damage to the roof, attic and 2nd floor bedrooms. The area was checked for damage and any potential issues that could cause further problems. Tower 369 laddered the building and assessed the roof damage from the exterior. Brookside Ambulance stood by until crews cleared the roof and it was determined there were no occupant injuries. Once it was determined there were no immediate life threats the fire department returned to service.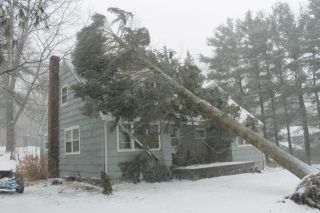 Pole Fire / Tree Down
03/12 - Kuhl Hose was dispatched for a pole fire at Kuhl and Old Wattsburg Rds. Nothing found at that intersection, the caller was located on Old Wattsburg Rd blocking traffic until the Fire Department arrived. A pine tree had taken down the power line, the line was down along the roadway and was still live and causing a fire. The Fire burned itself out with the help of the blizzard conditions prior to the power company arrival. Crews secured the area and waited for the power company to arrive. Fire Police assisted with closing the road until the power was secured.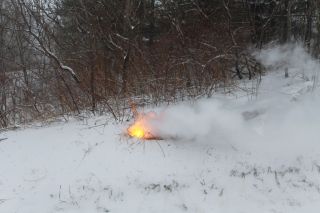 Trailer Fire
03/03 - Kuhl Hose assisted Perry Hiway at a structure fire late Monday morning. With temperatures near 0*, the homeowner reports that he had frozen water pipes under his trailer. He was using alternate hear source to thaw the pipes under the trailer. He noticed smoke and fire a short time later and called 911. Cranesville FD Deputy Chief was on the scene just after the call, confirmed a working fire, a hydrant location near the trailer and that it was buried under snow. He worked to dig the hydrant out prior to the Engines arrival. Engine 423 arrived confirmed the working trailer fire, 420 assumed command and moved fire ground operations to channel #2. Engine 363 arrived, pulled lines and assisted 423 with suppression efforts. On arrival 683 and 685 assisted with suppression and truck work. The fire was knocked down quickly but extensive overhaul was needed. Crews remained on scene for several hours. The fire is under investigation by the Perry Hiway Hose Co.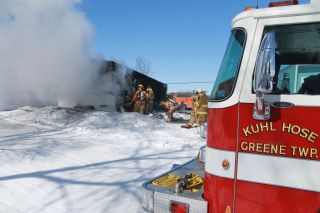 MVA RT 8
02/27 - Just after 23:00 Kuhl Hose was dispatched for a vehicle into a pole @ RT 8 & Tate Rds. On arrival Chief 680 reported a Pickup truck into a pole heavy damage. 697 Ambulance arrived and assessed, treated and obtained patient refusals of 2 victims from the truck. 682 Engine arrived secured the vehicle and assisted PSP & Fire Police with scene control. Crews cleared the scene within an hour. The State Police are investigating the accident.
3rd Structure Fire for the day
02/27 - For the 3rd time in 18 hours Kuhl Hose was dispatched to assist at a Structure Fire. Late in the morning Thursday 68 RIT was requested to assist at a house fire on Lane Rd. On arrival 151 reported smoke showing. Waterford crews were quick to contain the fire with a CAN and released the RIT as well as water tenders and REHAB.
This evening just after 21:00 Wattsburg was dispatched for their 2nd Structure fire of the day. Kuhl was dispatched for 2 Engines and 2 Tenders to assist on Lowville St. On arrival Chief 171 reported heavy smoke showing from a residential structure. Engine 172 arrived on the scene, stretched an 1 3/4" line and made a good knock on the fire. 683 arrived and worked with Truck 1139 to assist with overhaul and checking for extension. The fire was contained to the room of origin, with some smoke and water damage to the house. Corry RESCUE 108 held the RIT assignment. The fire appears to be electrical but is still under investigation.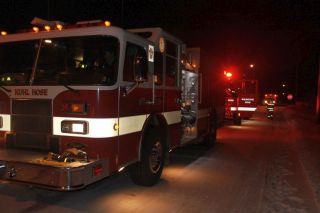 Structure Fire Assist Wattsburg
02/27 - Just before 08:00 Thursday morning, Kuhl Hose was dispatched to assist Wattsburg on Page Rd. Chief 171 arrived and reported a structure heavily involved in fire. 683 Engine arrived just after 172 Engine, set up water supply and assisted with fire suppression. 685 & 686 hauled water along with Fuller, Greenfield and Union City tenders. Belle Valley, Union City and Greenfield crews assisted with manpower for suppression efforts. The house and a garage were a total loss. The Family is being assisted by the Red Cross. The fire is under investigation but appears to be caused by a heating source.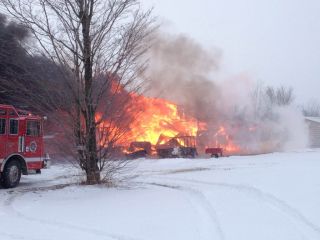 MVA Assist Wattsburg
02/23 - Early Sunday AM Wattsburg was dispatch to a vehicle accident on RT 8 near Fritz Hill Rd. On arrival Chief 180 reported 2 vehicles, heavy damage. 180 requested 68 EMS and Fire Police to assist. ALS was requested as well as an Air Medical response. Fire Police secured the landing Zone at the Erie County Airport, and also assisted with traffic control Wattsburg and Kuhl Hose crews extricated 3 victims, 2 were transported to UPMC Hamot by ground, the other was transported to the Landing Zone for transport by air to the trauma center. All 3 victims had moderate to serious injuries. The accident is under investigation.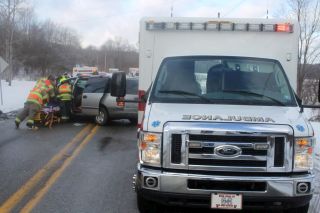 RIT Assist Kearsarge
02/14 - Kuhl Hose was dispatched for RIT to assist Kearsarge at a working fire on Peach St. Initial reports were a working fire, Chief 441 immediately called for mutual aid from Erie Fire Department. Chief 460 arrived, reported a working fire in a residential structure. On arrival Engine 12 made an aggressive attack on the fire. Crews from Kearsarge, Erie Fire, Belle Valley, Perry Hiway and West Ridge assisted and worked to contain the fire which was on multiple floors of the house. 683 held the RIT assignment until released by command. The fire is under investigation by the fire department and the fire inspector.
Engine Assist Belle Valley
02/13 - Engine 683 responded to Old French Rd to assist Belle Valley at a garage fire Thursday morning. On arrival 370 reported a working fire with exposure problems. 362 Engine arrived dropped a supply line and made the initial attack on the fire. Erie Fire Engine 12 supplied 362, and crews from E-12, 444, 683, and 429 assisted with containing and extinguishing the fire as well as checking exposure buildings. The fire is under investigation by the Belle Valley Fire Department.
RIT assist KFD
02/09 - Kuhl Hose was dispatched to assist Kearsarge for a chimney fire. On arrival Chief 450 reported smoke and fire from the Chimney. Crews from Kearsarge, Belle Valley and Perry Hiway worked to contain the fire, check for extension and perform ventilation. 683 held the RIT assignment until the fire was under control and released by command. Crews were on scene for just under an hour.
Guns & Hoses
02/08 - The 4th Annual Guns and Hoses Charity Hockey Game took place at Erie Insurance Arena Saturday afternoon. The $10 admission helped to raise funds and support the Erie Homes for Children and Adults. This game puts Firefighters against Law Enforcement Officers from Erie City and County against each other. This year Kuhl Hose's one and only Zack Criscione played on the Hoses Team. To say Zack was just a little excited to play and represent Kuhl Hose is well not an exaggeration. Congrats to both teams for a great game, good entertainment and raising funds for the a great cause.
Chimney Fire
01/28 - Kuhl Hose was dispatched for a Structure Fire on Lake Pleasant Rd early Tuesday morning. On arrival 681 reported nothing visible from the exterior of a single story residence. Further investigation revealed smoke on the 1st division and in the attic space. 680 arrived, assumed command and 681 coordinated operations. 683 took the driveway, searched and found a small fire in the wall behind the wood stove. The fire was extinguished with a can. Truck 429 went to the roof, checked the chimney, while 683 & 685 crews checked for extension and coordinated ventilation. 682 was prepared for a reverse lay to the dry hydrant @ East and Lake Pleasant if a water supply was required. Only minor damage was found and crews cleared the scene within an hour.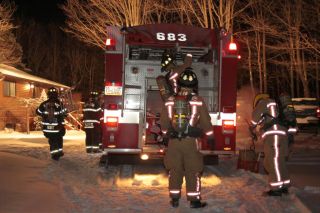 Structure Fire Assist Department 24
01/25 - Kuhl Hose was dispatched to assist Brookside for a working house fire. The assignment was for RIT & REHAB to reported. Just after dispatch, communications reported multiple calls confirming a working fire. 683 Engine and Rehab 68 responded. 5 members held the RIT assignment while crews worked to contain and extinguish the fire. After initial attempts at an interior attack all operations were exterior due to a collapse. Some RIT members assisted with exterior ops as the fire was brought under control. 683 was released after several hours, Rehab 68 remained on scene until released by command. Also assisting at the scene were Harborcreek, Fairfield, Wesleyville and Lawrence Park. The fire is under investigation.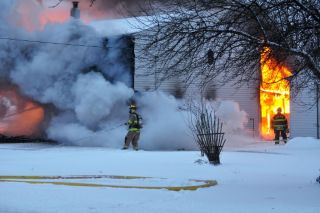 Structure Fire Assist Department 36
01/25 - 683 Engine and Rehab 68 responded with Belle Valley to a Structure Fire on East Arlington Rd early Saturday Morning. Belle Valley Chief 360 arrived reported a garage well off with 2 exposure problems. As crews arrived they made an attack on the fire, but due to the extreme cold initially had water problems. 683 established water supply from the secondary hydrant, and 683 crew then checked the exposure buildings as well as helped overhaul the garage. Crews from Engine 12, 13, 362, 363 extinguished the fire and relief crews then overhauled the garage and exposure building. The Garage and contents as well as a camper trailer were a total loss. Each exposure building suffered damage. Belle Valley was assisted by Kuhl Hose, Brookside, Erie Fire, Kearsarge and Perry Hiway.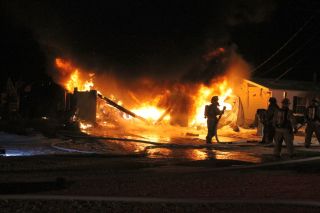 Chimney Fire
01/22 - Kuhl Hose was dispatched for a Chimney Fire on Dewey Rd. Brookside Truck 249 was dispatched as part of the pre-plan. On arrival Chief 680 reported nothing visible and assumed command. Chief 250 was assigned Ops Chief duties. 683 Engine was tasked to investigate and 249 Truck was sent to the roof. 683 reported a fire in the wood stove and possibly in the chimney flue. Crews checked for extension and cleared the flue of any obstructions and fire. All units cleared the scene within an hour.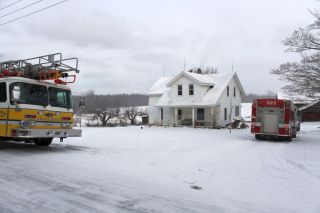 MVA Jones Rd
01/18 - Kuhl Hose and Emergycare were dispatched to Jones Rd for a roll over MVA. Reports from dispatch of a single vehicle with self extricated victims. 68-L1 arrived at the residence where the patients were located, reported 2 patients 1 for transport and 1 refusal. Chief 680 along with Greenfield Engine 704 checked the area of the vehicle for other victims. Crews secured the vehicle and awaited PSP arrival. 687 with Medic 190 transported 1 patient to UPMC Hamot. PSP is investigating the accident.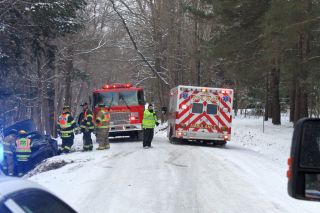 Assist Harborcreek Structure Fire

01/3/2014 - Just before 6 PM Friday, Kuhl Hose was dispatched to assist Harborcreek at a structure fire on Williams Rd. Chief 220 arrived and reported a working fire. Tenders 685 & 686 responded to support water supply operations between the scene and a fill site setup at Clark Elementary School. 683 Engine responded to the scene with manpower to assist. Single digit temperatures forced extra crews to be called and rotated often through extinguishment and overhaul. The cause is currently under investigation.