RT 8 Accident

09/23 - Kuhl Hose was dispatched to RT 8 @ Morehouse Rd for a roll over crash Wednesday morning. A Pick Up truck and SUV collided. The SUV was reported to be rolled over by the caller. It was on it's wheels but off the road on a bank. The truck was also off the road with some damage. 1 occupants in the SUV was confined to the vehicle. Crew were able to access her easily and extricate her through the rear hatch. 3 other occupants self extricated prior to EMS arrival. They were all assessed and treated and packaged for transport. All 4 occupants were transported to UPMC Hamot for further treatment. Brookside and Emergycare assisted at the scene. The accident is under investigation by the State Police.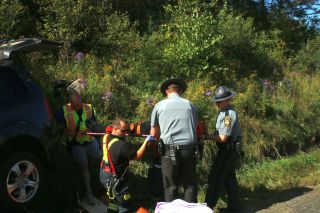 RT 8 Roll Over
08/04 - Tuesday afternoon Kuhl Hose and Emergycare were dispatched to RT 8 near Siegel Marsh on the #218 Game Lands for a vehicle roll over. On arrival 68-L1 reported 1 truck roll over, well off the road 1 patient self extricated. On arrival 687 assumed patient care, treated and prepared for transport. ALS arrived as the patient was being loaded for transport. The PT was transported to UPMC Hamot. 682 & 683 assisted with patient care, secured the vehicle and assisted PSP.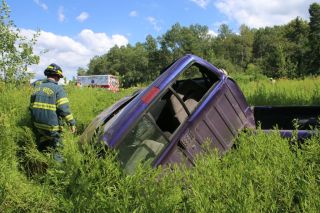 Tractor Roll Over

08/04 - Just after 13:00 Tuesday Kuhl Hose responded to the 3900 blk of Hartman Rd for a tractor rollover. Dispatch reported a tractor roll over, down an embankment into a pond. The operator of the tractor was also reported in the water. On arrival Chief 681 reported the victim in the water but alert and holding onto the tractor. He also confirmed that ropes and rigging would be needed to rescue the patient.

687 arrived and made access to the patient, assessed and treated him while 683 setup a 3:1 haul system. The patient wasn't seriously injured. The haul system was used to raise the patient in the stokes basket. 687 with ALS transported to UPMC Hamot.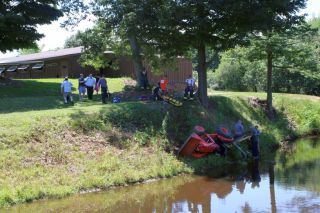 Assist Brookside Structure Fire
7/20 - Early Monday morning Brookside was dispatched to Hannon Rd for a structure fire. Kuhl Hose was sent to assist with one engine. Chief 240 arrived on scene and confirmed well-involved fire in a 40 x 30 garage. On arrival Engine 683 laid in from a hydrant on the corner of Hannon and Ridge Parkway. 500 ft of 5 in supply line was laid to Engine 242 performing the fire attack with three hand lines. Once water supply was established, the crew from 683 assisted with suppression and overhaul.
Engine 682 and Rehab 68 were also requested and assisted on scene in addition to Belle Valley, Fairfield, Wesleyville and Fuller Hose RIT. Cause is being investigated by the Brookside Fire Department.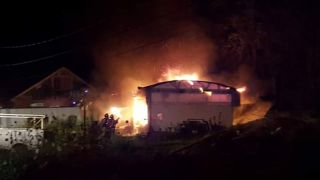 Independence Day Fire

07/04 - Just after six Saturday evening a fire was reported at a farm on Clemens Rd. Kuhl Hose was dispatched along with several other departments. Chief 681 responded and was advised of a barn fire. A Kuhl Hose member arrived on scene prior to 681 and the apparatus. He worked with several family and neighbors to form a bucket brigade and was able to keep the fire in check. On arrival 686 stretched 1 - 13/4" line and extinguished the fire. Crews from 686 and 683 checked for extension in the barns structure, manure pile and other farm materials. The cause of the fire appears to be from outdoor burning that spread to the barn. Wattsburg 176 assisted at the scene.

RIT Assist Union City

05/28 - Union City was dispatched for a residential structure fire. Command reported a well involved residential structure on arrival. Corry 108 Rescue was originally assigned the RIT assignment but enroute Command requested 68 RIT to the scene as 108 would be going to work. 685 & 686 were also requested to the scene for water shuttle operations. On arrival 683 set up on side A, monitored conditions, worked with safety and assisted with other fire ground operations as required and appropriate. REHAB 68 also responded to assist at the scene. The fire is under investigation and no injuries were reported.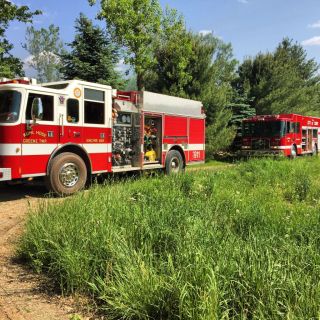 RIT Assist North East
05/20 - North East was dispatched to Lake St for a structure Fire. Kuhl Hose was dispatched as RIT. Engine 202 arrived first on scene, confirmed a working fire and began an attack. As 683 Engine was en route East County Dispatch relayed that there were two structures involved. A second RIT was dispatched from Belle Valley with this information. On scene 68RIT set up in the A-B corner and 36 RIT set up on the Charlie side. RIT monitored conditions, placed ladders and provided support. Attack and truck crews from Fuller, Crescent, Fairfield and Greenfield worked to contain the fire and assisted at the scene.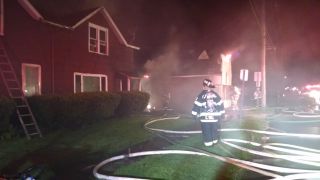 Barn Fire assist Waterford
05/03 - A barn fire on Union Rd in Waterford township Sunday afternoon was a total loss. Crews were called to a report of a barn fire just before 2:30 Sunday afternoon. Chief 150 arrived on the scene and reported a working fire. Kuhl Hose was dispatched to assist and responded with Engine 683 and Tenders 685 & 686. Crews stretched multiple hand lines to protect exposures, make a knock on the fire as well as set up portable monitors to contain the fire. Water was shuttled from a dry hydrant as well as municipal water source several miles away. Edinboro, Mill Village, Union City, and Perry Hiway also assisted Waterford. Crews cleared the scene in just under 5 hours.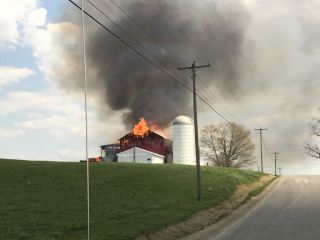 Brush Fire assist Brookside
4/19 - Kuhl Hose was dispatched to standby to assist Station 24 with a brush fire on Hannon Rd Sunday night. Chief 240 arrived and reported over 1 acre of field on fire. 689 was requested to the scene, and 697 also responded with additional manpower.
Upon arrival on scene, 689 stretched a booster line and used hand tools to contain the fire. Tender 685 was also called but canceled once the fire was under control. Harborcreek and Fairfield also assisted.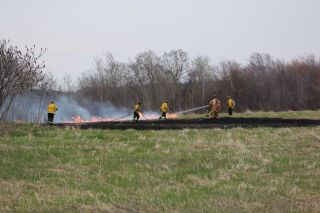 Structure Fire Assist Mckean
02/26 - Kuhl Hose was dispatched to assist Mckean early Thursday morning. Mckean was dispatched to a house explosion with fire just before 06:00. On arrival units reported a fully involved structure. The house was a long distance from the roadway. A multi unit pump relay was established using a multiple water tender shuttle operation for the supply. Kuhl Hose send both 685 & 686 to assist along with Perry Hiway 435, Edinboro 383, Fairview 535, and Waterford 145. Units shuttled water from 2 established supply points. The fire was under control in a few hours and units were returned. REHAB 68 also assisted at the scene working with West Ridge rehab.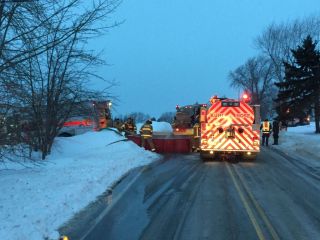 Structure Fire Assist Wattsburg
02/08 - Just before 09:30 Sunday morning Wattsburg was alerted to a structure fire on Young Rd. Kuhl Hose, Greenfield, Elgin and Corry were also dispatched to assist. On arrival Captain 184 reported a working garage fire. 172 Engine crew arrived stretched a 2 1/2" line and made an initial attack. Crew from 683, 704 & 756 Engine's assisted with suppression efforts. Corry 108 held the RIT. Tenders 176, 685, 686 supplied water and squad 707 and medic 146 stood by. The garage was used as a small living area for 1 adult, as well as storage of farm machinery. The fire was contained quickly but took crews several hours to overhaul. The cause appears to be a wood stove, but official determination is underway.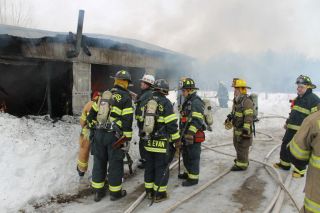 RIT Assist Union City
02/07 - Kuhl Hose assisted Union City at a residential structure fire. Crews arrived found and exterior fire that had extended into the attic space. Edinboro 382 was originally called for RIT, but went to work and 683 responded and held the RIT assignment until units were cleared.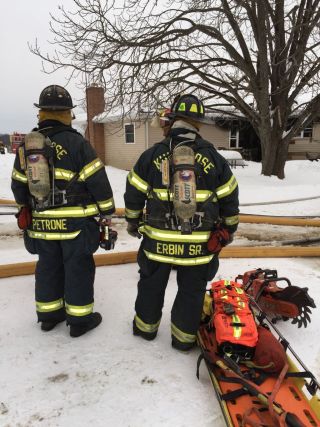 Structure Fire Assist Wattsburg
01/24 - Just after 5:30 Saturday night Kuhl Hose was dispatched to assist Wattsburg on Page Rd for a house fire. On arrival heavy fire conditions were reported throughout the 1st and 2nd divisions of the house. 680 assumed command as units arrived. 172, 174 and 683 engine crews made the initial attack with 2 1/2" hand lines. Engine 704 set up water supply and supplied 174 & 683. Manpower from 704, 363 & 369 assisted with suppression. 248 Rescue worked as safety/RIT. Tenders shuttled water from a pond about 1/2 mile away on plum road where 682 Engine was set up. Fuller Engine 204 & Tender 206 were special called to assist. The fire is under investigation and no injuries were reported.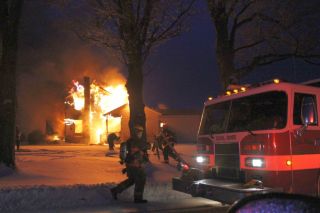 Snow Rescue Assist Greenfield
01/11 - Kuhl Hose was dispatched to Townley Run to assist Greenfield with an off road snow rescue. A 11 year old struck a tree while sled riding and had a traumatic leg injury. Greenfield 700 arrived and requested Snow Rescue 68 and manpower to help extricate the patient. On arrival, the patient was moved to the stokes and placed on the rescue sled, then extricated to the ambulance. 707 transported to UPMC Hamot. Snow Rescue 68 returned to service.