Busti NY Sunday Training

05/05 - After several months of discussion and planning, Kuhl Hose & Edinboro crews participated in a Sunday training session in Busti, New York. The Busti Fire Chief requested assistance to review different concepts in Rapid Intervention, MAYDAY and accountability presented from our perspective. Firefighters from Busti, Panama, Kiantone, Clymer and Lakewood in Chautauqua County's 3rd Battalion attended. 380 and 680 held a round table discussion on how both Kuhl Hose & Edinboro work together when called for RIT. The discussion continued with how we incorporate a RIT officer on the scene, as well as implement polices and training for MAYDAY and accountability.

Wild Fire Bliley Rd

05/04 - Kuhl Hose was dispatched to Bliley Rd Saturday afternoon for a large wild fire. On arrival 690 reported a large fire that wasn't easily accessible from the road. Access was gained from a farm road. The Fire was not easily contained due to high winds. Several hand crews worked to contain the fire and spent about 2 hours overhauling the area. The fire was in an open field, wooded area and brush. Units from Wattsburg assisted until they were called to their own wild fire that was endangering a barn. The cause of the fire may have been from careless burning, and is still being investigated.

Brush Fire Dewey Rd

04/27 - Kuhl Hose was dispatched to a Brush / Tire Fire on Dewey Rd late Saturday afternoon. When crews arrived they found that a homeowner had been burning trash that got away from them and spread to brush, some tires and other items. 682, 683 & 689 responded and contained the and overhauled the area. Crews were assisted by the homeowner who used his excavator with overhaul.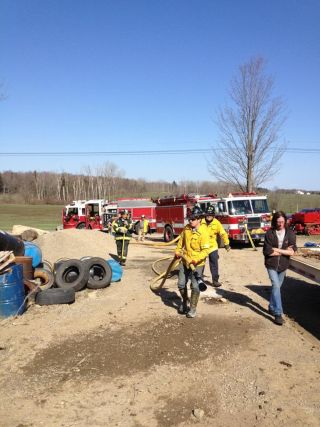 Brush Fire Bennett Rd
04/27 - Saturday morning Kuhl Hose was dispatched to a brush fire on Bennett Rd. 68L1 arrived and reported 1/2 acre of brush burning off the road. 689, 683, 685 and 697 responded. Crews quickly contained the fire using hand tools to cut a fire line around the perimeter. The booster line off 689 was used extinguish the hot spots.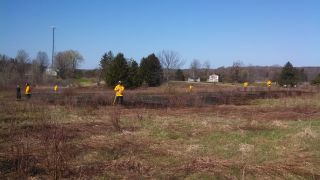 Assist Wattsburg Trailer Fire
04/22 - Kuhl Hose, Union City and Elgin Beaverdam were dispatched to assist Wattsburg at a structure fire on Jamestown Rd Monday morning. Kuhl Hose was dispatched for 2 Water Tenders and an Engine to respond. 172 Engine arrived and found an abandoned trailer fully involved. The trailer sat on an old section of Jamestown Rd and was well off the main road. Command requested Kuhl Hose and Elgin to continue and released Union City units. 685 & 686 responded as well as 683. 689 was special called for Wildland equipment as the fire had spread to the wooded area near the trailer. Both 686 & 685 supplied 172 with water and the crew from 689 assisted in containing the spreading wild fire and mop up of the burning debris.
RIT assist Lawrence Park @ G.E.
04/20 - Kuhl Hose was dispatched to assist Lawrence Park at the G.E. with RIT after a reported building fire. Dispatch reports were some type of fire at Building 18. Lawrence Park arrived and found a fire in the stack system on top of building 18. Once crews arrived at the location of the fire it was determined that welding sparks set fire to filters in the stack system. Initial attempts were made with dry chem extinguishers to contain the fire without success. Crews stretched line to the fire from the 2nd division roof and used Ladder 249 waterway as a standpipe. The fire was quickly contained. 683 RIT split and monitored 2 sides of the building as well as from the 2nd division roof. RIT remained on the scene until the fire was contained and all crews were clear of the roof.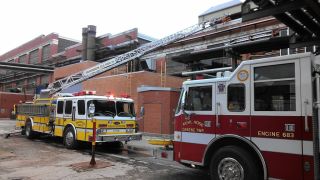 Single Vehicle MVA
04/20 - A single vehicle accident caused minor injuries Saturday morning. The vehicle traveling south on RT 8 crashed into a semi trailer that was off the roadway in a junk yard. The vehicle had minor damage and caused 1 minor injury. 697 arrived, the patient was assessed but refused treatment and transport. PSP is investigating.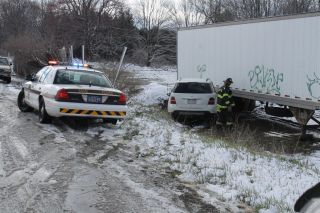 Gunnison Rd MVA
04/19 - Just before 01:00 Kuhl Hose was dispatched to Gunnison Rd for a single vehicle accident, reported car vs tree. On arrival 687 confirmed a single vehicle into a tree and 691 assumed command. A single patient with moderate injuries was assessed, treated and transported to UPMC Hamot. 682 & 683 arrived, assisted with patient care and secured the vehicle. PSP is investigating the accident.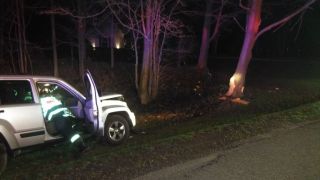 MVA RT 8

04/02 - Just after 5 Tuesday afternoon Kuhl Hose was dispatched to RT 8 in front of the Beechwood Inn for a multiple vehicle accident. On arrival 680 reported multiple vehicles involved. A status update reported 3 vehicles involved moderate damage 1 patient confined in an auto. 687, 683 and 697 responded. 687 arrived first on scene, gained access to the patient an assessment and treatment was started. Crews from 687 secured the vehicle and with help from 683 used the Holmatro BCT to remove the door. The PT was extricated and transported to UPMC Hamot. The scene was secured and fire police remained on the scene until released by PSP.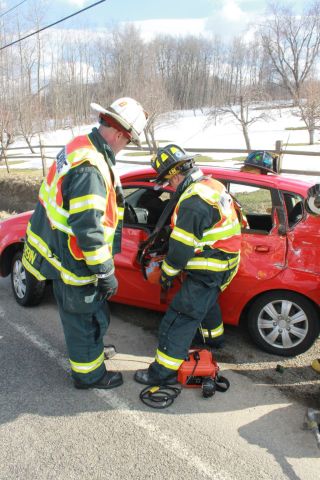 Barn Fire Assist Wattsburg
03/20 - Just before 10 Wednesday morning Kuhl Hose was dispatched to assist Wattsburg at the Meabon farm on RT 89 in Lowville. The initial request was for an engine and 2 tenders to respond. 911 calls reported a barn on fire. Command arrived and reported several barns on fire and requested multiple other units to the scene. Kuhl Hose sent engines 682 & 683, Tenders 685 & 686, Ambulance 687 and REHAB 68. Kuhl Hose crews assisted with suppression efforts as well as water supply. 682 & 683 Engines along with 204 Engine from Fuller Hose set up a 2400' 5" LDH relay from French Creek to supply water. 685 & 686 each hauled multiple loads of water prior to the LDH relay being established.
MVA Lake Pleasant Rd
03/17 - Kuhl Hose and Emergycare were dispatched to 8400 Lake Pleasant Rd late Sunday afternoon. On arrival 687 reported 1 vehicle into a tree with heavy damage. 687 assumed command. Command confirmed 1 patient self extricated. The vehicle prior to hitting the tree traveled several hundred feet from where it originally went off the road missing several poles and was airborne at one point. The critical patient was transported to Hamot Shock Trauma for treatment. PSP is investigating the accident.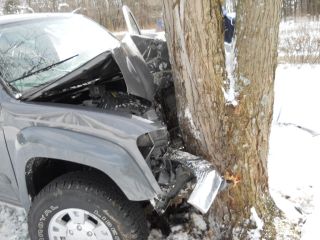 Fatal House Fire
03/13 - Kuhl Hose was dispatched to assist Perry Hiway at a residential structure fire Wednesday evening. Dispatch reported multiple calls and possible entrapment. On arrival of Medic 144 a working fire was confirmed with one patient located on the exterior of the structure. As 683 Engine arrived, the medic confirmed one person was still inside. Personnel from 683 split up; one crew took water cans and hand tools to do a quick search of the rear of the structure while the second crew stretched 2 lines to attack the fire. All crews attempted to locate and rescue the trapped victim. 682 Engine also responded and assisted in a secondary search and fire suppression efforts. 362 & 434 crews also assisted with suppression and overhaul.The first fire victim was transported to UPMC Hamot and the second victim succumbed to the smoke and fire. 685, 686, 145 and 435 shuttled water to 683 as there is no municipal water system in the trailer park. 687 also responded on itital dispatch to provide rehab and medical aid. The fire is under investigation by Perry Hiway and the Pennsylvania State Police Fire Marshal.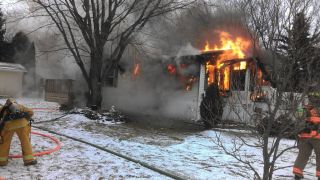 Assist Waterford House Fire
03/11/13 - Just after 08:00 Monday morning Kuhl Hose was called to assist Waterford at a Structure Fire on RT 97 North. Waterford Chief 151 arrived and reported a working fire. Initial reports were of possible entrapment but all searches confirmed no one was in the structure. Engine 143 made a quick attack on the fire and along with mutual aid were able to quickly contain and extinguish the fire. 683 established Water Supply at Moore Rd & RT 97 while 685 & 682 reported directly to the scene. Crews assisted on the scene for about 2 hours. Crews from Kuhl Hose, Perry Hiway, Edinboro and Mill Village assisted at the scene. The fire is under investigation.
Dryer Fire -- University Gate Laundromat
02/22 - Kuhl Hose was dispatched to assist Brookside at University Gate Laundromat for a report of a structure fire. 680 arrived and reported smoke showing from a single story commercial structure and assumed command. Maintenance reported they attempted to contain the fire with an extinguisher prior to the FD arrival. 680 confirmed a working fire inside a dryer. 249 and 683 arrived on scene and command was transferred to Captain 252. Crews were able to contain and extinguish the fire with 2 water cans. Crews checked for extension and ventilated the structure. Harborcreek Township 237 crews also assisted, and all units cleared the scene within an hour.
Structure Fire Sampson Rd
02/17 - Just before 06:00 Sunday morning Kuhl Hose was dispatched to Sampson Rd for a Structure Fire. When Chief 680 responded county dispatch reported a fire in the cock loft. The family reported hearing popping sounds, then shortly after the smoke alarm alerted them to the fire. They called 911 and escaped without injury.
On arrival 680 confirmed a 2 story wood frame single family dwelling, Working Fire. 683 was 1st due and on arrival stretched a line and made an aggressive attack on the fire. 682 arrived and worked with Engine 363 to get a backup line into service. The fire was contained within a short time but took several hours for overhaul and extinguishment by engine crews from Kuhl Hose, Belle Valley, Waterford, Brookside, Wattsburg and Mckean. These multiple crews were called due to the bitter cold conditions. Edinboro 382 held the RIT/Safety assignment. Water supply was established at the end of the driveway with many water tenders from Kuhl Hose, Wattsburg, Waterford, Perry Hiway and Union City. Wattsburg Engine set up near the scene at a dry hydrant to supply the tender shuttle. The fire is under investigation by Kuhl Hose.