EMS
Kuhl Hose Company operates a BLS (Basic Life Support) EMS service. We operate 2 Modular Type ambulances - -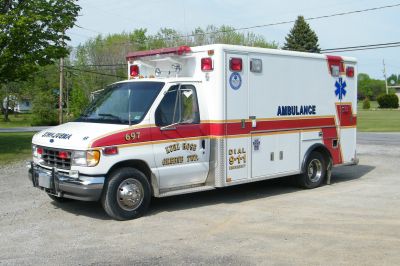 697 - 1994 Ford Horton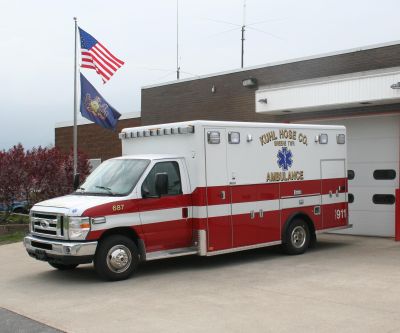 687 - 2008 Ford Horton
The ambulance's are inspected and approved for operation by the Pennsylvania Department of Health. The inspection process is completed by EMMCO West the NW Pennsylvania regional EMS council, who is contracted by the Department of Health. The EMS licensure includes the review of EMS personnel their First Responder, EMT, and Paramedic licenses and review of paperwork and record keeping standards. The physical inspection of equipment includes such as Back Boards, Splints, Stretcher's and bandaging supplies. It also includes the inspection of items such as the Automated External Defibrillator, Onboard and portable suction units, Emergency lights and audible sirens. EMMCO does spot inspections of the ambulances and its equipment to ensure that agencies such as Kuhl Hose remain in compliance with standards set by the Department of Health. BLS Ambulance Licensure Overview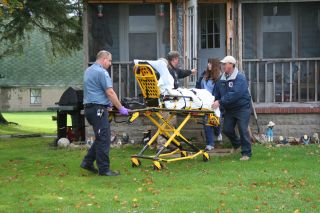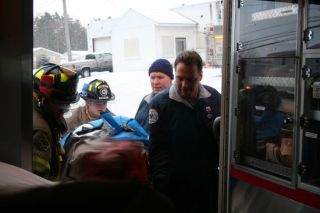 Kuhl Hose operates the BLS service 24 hours a day, 7 days a week. The ambulance is staffed with a minimum of 1 EMT and 1 First Responder. Since over 80% of our responding members are certified at the EMT level or higher, for
most emergencies our ambulance is staffed with a minimum of 2 EMTs.
Our BLS service is supported by both Emergycare and Millcreek Paramedic Services. Kuhl Hose contracts with both to provide Advanced Life Support services -- (Paramedics) -- The paramedic services supply Paramedics who are trained to a higher level than an EMT and can provide services such as Cardiac monitoring, IV's, administer medications and stabilize critical patients for transport.
On occasions where there is a critical patient and the transport to the hospital will be enhanced by air transport -- Air Ambulance from Stat Med Evac / Star Flight / University Med Evac can be utilized.
The Health Insurance Portability and Accountability Act (HIPAA) of 1996 -- more specifically the privacy rule that took effect on April 14, 2003 is followed by Kuhl Hose. For a copy of the Kuhl Hose Privacy Policy