Safety
Firefighting has always been recognized as one of the world's most hazardous occupations. As a result, Safety is a vital issue of concern for all members of the Kuhl Hose Fire Department. The department is always looking for ways to improve its safety record through engineering changes, behavioral modification, and statistical analysis.
The Safety Officer of the fire department is appointed by the Fire Chief. His/her duties include observing accident and fire scenes, maintaining a safe environment for all personnel. Additionally the safety officer serves as the Health/Safety infection control officer. The Safety Officer also chairs a safety committee that reviews all accidents and injuries as well as makes recommendations to the leadership of cultural changes and suggestive corrective actions needing addressed.
The Fire Department has an appointed Safety Officer, but it is up to the entire membership to maintain a safe working environment. All members are encouraged to report any concerns to the Safety Officer or any other fire officer.
Accountability
Accountability is an important part of the Kuhl Hose Fire Department's safety effort. It is also an OSHA requirement, that failure to comply with can cause severe fines or even injury or death. The operation of the Kuhl Hose accountability has been designed to be as simple and effective as possible.
While responding to an emergency, it is the officer in charge's responsibility to collect all members' accountability tags. The accountability tag consists of a piece of hard plastic connected to a snap hook. The firefighters name and department are listed on this tag. Each member is given 2 tags. Once the tags are collected, one set is placed on ring with a tag identifying function of the crew. The other set remains in the apparatus, to serve as a backup.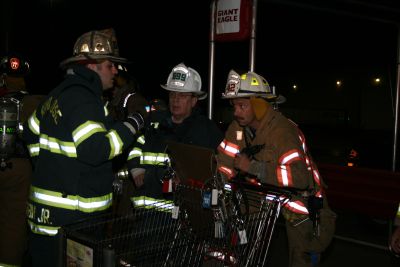 Upon arrival of the scene, the ring of tags is turned in to the accountability officer who will then attach them to the accountability board. The accountability board is a white, dry-erase board, with spaces to record the assignments of the crew. It is important to keep the crew together, or to make sure the accountability officer is notified of any changes. If the crew is entering an area requiring SCBA, the accountability officer we keep time of their entry and exit from the area.
It is vital that all members notify the accountability officer of any change in assignments. It is also crucial that the members retrieve their tags prior to leaving the scene. This system must be followed by all members on the fire ground regardless of the department they belong to or apparatus they arrived in.